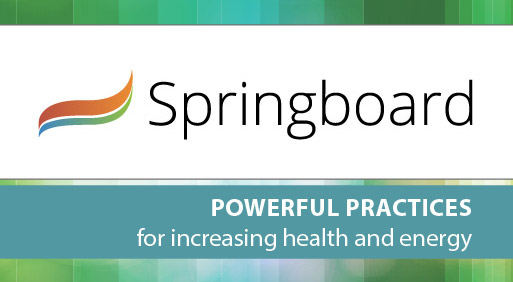 "Springboard" helps individuals and businesses reach new levels in health and well-being.
Building on the success of its initial program, Advanced Wellness Systems (AWS) in Raleigh, NC, has refined its web-based employee wellness program and rebranded it as Springboard to more accurately reflect its strongest collection of health and well-being practices to date.
With a new look and new features, Springboard makes it possible for individuals to increase their health and energy in order to thrive, not just survive, in today's rapidly changing environment, according to Dr. Joyce M. Young, founder and managing director of AWS.
Likewise, companies can differentiate themselves and become recognized leaders for having high-health, energetic workforces.
"People want to be healthy, creative, energetic, purposeful, and resilient, and these qualities are needed to achieve personal and business success," Dr. Young observed. "Meanwhile, seasoned workplace health professionals are asking, 'What's next?' in employee health promotion. So our question became, 'How do we refine our wellness program to be more practical, more powerful, and to provide a more integrated vision of health?'"
Unlike traditional wellness programs that focus on avoiding illness and risk through diet and exercise, Springboard supports growth in personal health and energy across the whole life spectrum. It draws knowledge and practices from experts in the areas of mindfulness, nature-based attention restoration, quality movement, personal meaning, high-intensity interval training, and nutrient-rich eating.
Springboard Commons is a division of Advanced Wellness Systems that delivers the program to employers who want to integrate it into their companies. Within Springboard Commons is a new, flexible, facilitated access option, which makes the program accessible to companies of all sizes. For more details on this option, go to springboardcommons.com/flexible-facilitated-access.
To learn more about the new Springboard workplace wellness program, visit springboardcommons.com.
For more information on AWS, including brief biographies on the team of experts behind the company, visit www.advanced-wellness-systems.com.